COME LEARN WITH JONATHAN
Invest in yourself. One intense week. Lasting impact for your career.
Our intensive weeklong program will give you tools to take your career to a new level, whether you are just starting out or already a seasoned practitioner. Ideal for all athletic trainers, personal trainers, manual/massage therapists, acupuncturists, physical therapists, chiropracters, coaches, and athletes looking to hone their skills in a collaborative, elite-level environment.
Leave the Program More Confident
YOU WILL LEARN:
How to apply knowledge base to highly athletic population

Clinical sports therapy model applied to all-cash practice

Specific manual therapy skills (as applicable)

Case studies with top-level athletes

How to improve specific assessment skills

IN SHORT:

How to solve your clients' problems faster and make more money!
Jonathan pushed me to become more knowledgeable, confident, and passionate about the fields of health, fitness, and performance training. I am headed to physical therapy school with the determination and knowledge to do more than just treat symptoms and give 'protocol' treatment plans."
- Jake Pham, USC Candidate for DPT, 2022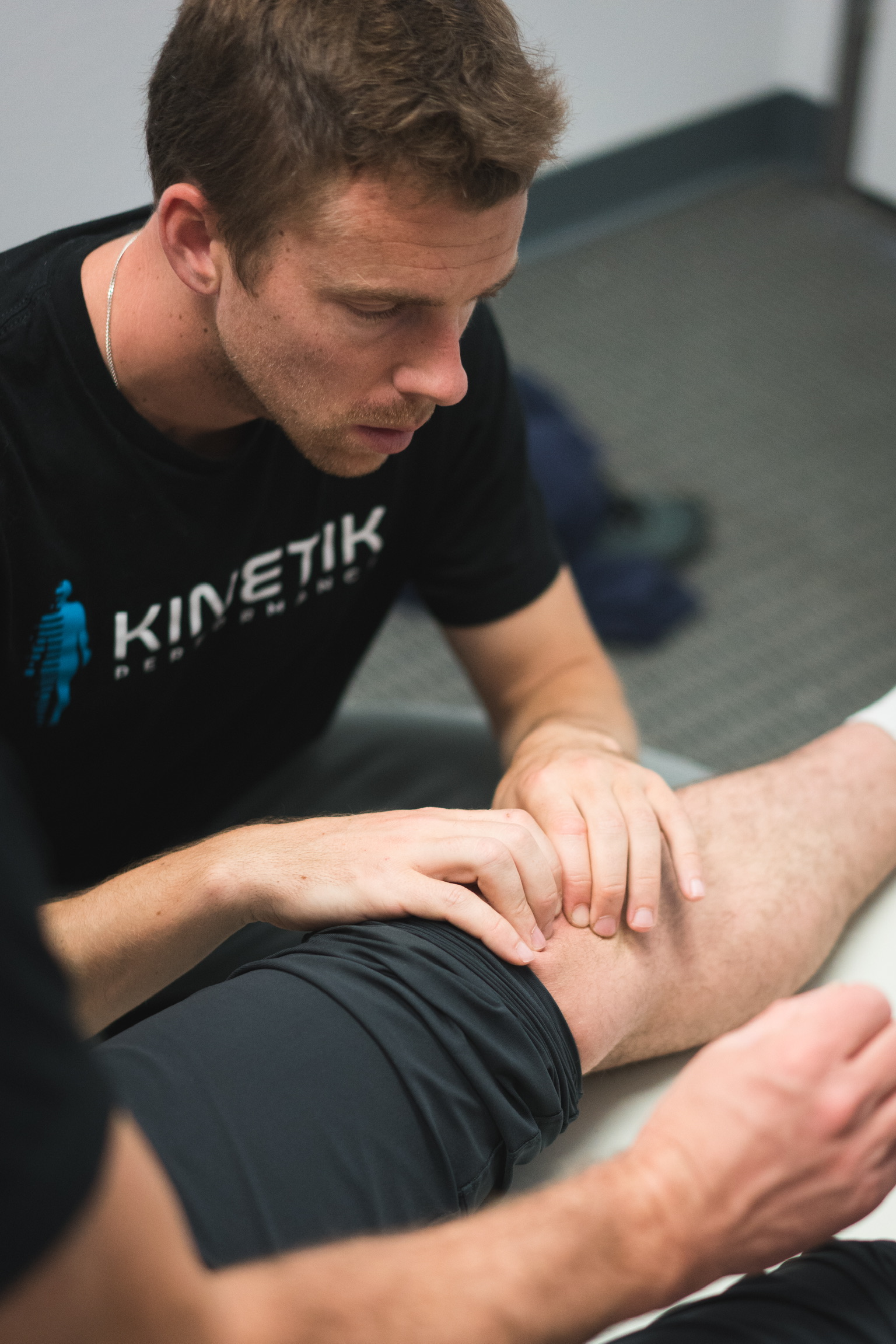 "After an intense week of learning,
I knew the importance of fascial planes, how muscle structures interlace with other structures, how to treat ligaments and why, what fascia is and why we talk about it so much, and how to assess underlying issues while analyzing movement patterns such as running, walking, CrossFit movements, yoga poses, cycling mechanics. You name it, we assessed it, and learned from each other what was happening mechanically or not happening mechanically. The ability to see the body globally allows Jonathan to see the root cause of issues, not just where the pain is."
- Ciaran Lane, ART Provider
Full 4 day program of shadowing, daily debriefs with Jonathan, in-office experience with Kinetik team

Experience new concepts and styles of treatment

Hard copy handbook/manual to reference through the week and take home

Four follow-up coaching calls

Time to workout

$1495
Everything included in Therapy Intensive,

PLUS

An extra day of on-site shadowing

A 2-hour business coaching session

(topics include sales and intake process, counseling on business plan, culture, team-building.)

$1995
DATES AVAILABLE: 10/14, 10/21, 10/28, 11/4, 11/11, 11/18, 12/2, 12/9
(These are program start dates - Monday. End dates are the corresponding Thursday or Friday depending which program you choose.)
Our Facility
Come experience our state-of-the-art facility in action, work alongside our energizing team, and shadow world-class therapist Jonathan Pierce.